When you pray…
March 8 – March 14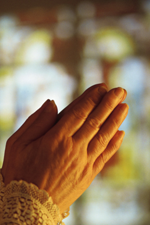 "The holy and most glorious God invites us to come to Him, to ask from Him such things as we need, and to experience what a blessing there is in fellowship with Him. He has created us in His own image and has redeemed us by His own Son, so that in prayer with Him we might find our highest glory and salvation." Andrew Murray
84%. The statistic was staggering. At our recent "Love for Life" conference, a poll was taken among over 1000 couples. "How many of you pray together regularly as a couple?" 84% admitted that they DO NOT. Christian couples attending a marriage conference. Only 16% of them pray together. Then, the "why not" question was put to them. The number one answer? "Afraid or intimidated." Married men and women who share and experience everything in life — uncomfortable with seeking God together. One couple said, "it's a struggle to pray with someone you don't like or are angry with."
Jesus understood the deep need for prayer. Luke tells us that, "He Himself would often slip away to the wilderness (lonely places) and pray." (5:16 NASV) Sometimes even spending "the whole night in prayer to God". (6:12 NASV) If the very Son of God felt compelled to draw near to His Father in intimate fellowship, should we not as well?
Here are three intimacy truths that may encourage you to cultivate a culture of prayer in your own life, marriage and family:
Communication. Often, Jesus spoke openly, directly to God (Matthew 11:25) His Father. And ours. 1 John 3:1, "See how great a love the Father has bestowed upon us, that we should be called the children of God; and such we are." (NASV) We are adopted into His family. We can call Him "Abba" (dad). (Romans 8:15) Little children never hesitate to talk to their parents, bringing their simplest need or desire to their attention. Neither should we hesitate to bring our intimate, personal requests confidently to Him. Experiencing God together is not about changing your spouse, it's about simply knowing him better together.
Cry out. How often have you heard someone say, "All I had left to do was to pray. I'd tried everything else." Our lives are full of trials. Stress. Heartache. Issues that sap our strength and leave us spiritually "limp as a dish rag". David understood this. In Psalm 18:6 he lets us view a glimpse of his own intimacy with the LORD. "In my distress I called upon the LORD; to my God I cried for help. From His temple He heard my voice, and my cry to Him reached His ears." Have you ever heard your child cry out in fear or panic? What is your natural immediate response? So it is with your Heavenly Father. The soul, and I'll add the couple, that "cries out to Him" will never call in vain.
Consistency. Develop the attitude of continual prayer.
1 Thessalonians 5:17, "Pray without ceasing."
Romans 12:12, "…be constant in prayer."
Ephesians 6:18, "Praying at all times…"
Colossians 4:2, "Continue steadfastly in prayer…"
Jesus even devoted a whole parable to this facet of prayer in Luke 18:1 "And he told them a parable to the effect that they ought always to pray and not lose heart." Stay with your prayers. The answer to prayer… is often found in more prayer.
One of the greatest deterrents to an effective prayer life is the belief that all has to be right before we can pray. Nothing is further from the truth.
Get alone with God. Now. Together. He longs for you. It just might turn your life and relationships around.
Posted on: March 8, 2011, 3:58 p.m.