Abba Father
May 24 – May 30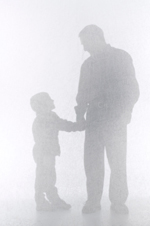 I knew if Julie called during a counseling session, something serious was going on. So I took the call. Zach, our 4-year-old son, had battled asthma as a toddler, but a spiking fever had her "mother sensors" going off. His fever was 103 and she knew it was on a climb that wasn't responding to any of the usual remedies. I suggested that she keep giving him fever medication and call me if things got any worse.
Ten minutes later, while I was still in the session, the next call came. Zach was in real trouble and Julie was panicking. His fever was now 105 degrees. As I jumped into the car to race home Julie dialed 911, and I called my sister Ruth Ann, an ER nurse. By the time I reached the front door, Zach's temperature had spiked at 106.9. He lay on the floor wrapped in cold towels, with Julie cradling him, while he was having what looked like a seizure. When he saw me, he looked up at me and choked out, "Help me dada…" He didn't call me "sir" or "Dr. Clinton", or "Tim". He used that special name that has always turned my head — "dada". We frantically continued to try to cool his body down. The ambulance came and rushed him to the hospital ER. The diagnosis? Fever of unknown origin. What a nightmare for a mom and dad. I thanked my heavenly father.
In Mark 14 we find Jesus in the Garden of Gethsemane. He is in deep distress as he looks ahead to the Cross. Usually, Jesus referred to God as "Father". With his soul grieved to the point of death, Jesus prays, "Abba, Father, all things are possible for you…" (Vs. 36 ESV). The word "Abba" can be easily translated as "daddy". It is a very intimate term that Jesus uses at a point of incredible anxiety, dismay and fear.
Most often, we conceptualize God as distant and far away. He is God — Holy… Magnificent… Powerful… Almighty. It somehow goes against our nature to think of Him with such a depth of affectionate that we can call him "dad" or "daddy". After all, Jesus is His only begotten son. He has a relationship with His Father that we simply do not believe is possible for us to have.
In Romans 8:15, Paul turns this upside down when he says, "…you have received the Spirit of adoption as sons, by whom we cry, 'Abba, Father!'". (ESV) Again in Galatians 4:6 Paul confirms this line of thought. "And because you are sons, God has sent the spirit of His son into our hearts, crying, 'Abba, Father'". (ESV) Remember the Garden where we found Jesus? He went from the garden, to Golgotha, and there drank the bitter cup of the "cross" that God had prepared for Him — for us. A cup that Jesus drank out of obedience to His "Abba Father".
"For our sake He (God) made Him (Jesus) to be sin who knew no sin, so that we might become the righteousness of God." (2 Corinthians 5:21 ESV)
For what? So that we could become the sons and daughters of God. Joint heirs with Christ. And so that your Heavenly Father, especially in the distresses of life, can be found. (Psalm 46:1) Yes, He is there for you… even now. Waiting to turn your life around.
Posted on: May 24, 2011, 7:24 p.m.