It's On!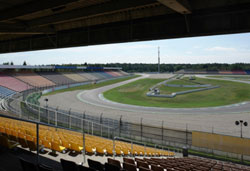 September 20 – September 26
"Life is not a sprint — it's a marathon."
"Urgently we do need a revival of personal godliness; when personal faith is steadfast, the church abides true to her Lord." -Charles H. Spurgeon
After the first 25 races this season, the driver of #48, Hendrick Motor Sports five-time NASCAR Champion Jimmie Johnson, stands number one in overall points, with over 4 million dollars in prize money. To Jimmie's fans, this is no surprise. What is amazing is that of those 25 races, he actually only won one race. However, 11 times he finished in the top-five… 17 times in the top-ten. During any given race, it is probable that you will hear one of the sports announcers make a comment about just how consistent and steady Johnson is as a driver. While winning races is certainly important to Jimmie, he is locked in on winning the ultimate prize — Championship #6 at the end of the season.
The great Apostle Paul often talked about the Christian life as a race. In his first letter to the church in Corinth he asks the question, "Do you not know that in a race all the runners run, but only one receives the prize?" (1 Corinthians 9:24 ESV) With the energy and encouragement of a coach at half time, Paul continues with, "So run that you may obtain it!"
In Paul's mind, in this journey we affectionately refer to as being a "Christ-follower", we must get "all-in" — to win the prize.
Paul, celebrating in the Lord, declared to the Philippians that he was "holding fast the word of life, so that in the day of Christ I have reason to glory because I did not run in vain…" (Phil. 2:16 NASV)
Knowing that his final days were very near, Paul wrote young Timothy and with triumph proclaimed, "I have fought the good fight, I have finished the race, I have kept the faith." (2 Timothy 4:7 ESV) It's an admonition for us all, because finishing strong is all about honoring Christ! In the end, that's all that really matters.
Don't let the modern day definition of the word "tragedy" define you — "Being successful in the things that don't matter."
I love how Paul admonished the Corinthian believers, "Therefore, my beloved brothers, be steadfast, immovable, always abounding in the work of the Lord, knowing that in the Lord, your labor is not in vain." (1 Corinthians 5:58 ESV) The Greek word for steadfast, hedraios, is used as a metaphor of "those who are fixed in purpose" (Strong's Concordance) . What's interesting is that in the previous verse, Paul declares that it is "God who gives the victory through the Lord Jesus Christ." The writer of Hebrews reinforces this — "…let us run with endurance the race that is set before us, looking unto Jesus, the founder and perfecter of our faith…" (Hebrews 12:1-2 ESV) That's how we "lock in" and finish!
As you run the race, keep your eyes fixed your eyes on Him. Be consistent. Steadfast. Never give up. And remember, life isn't a sprint… it's a marathon. Guess what? It's race day. And as they say on race day — "It's on!"
Turn your life around.
P. S. By the way — yes I am a #48 fan…
Posted on: Sept. 20, 2011, 10:22 p.m.