Love Him Back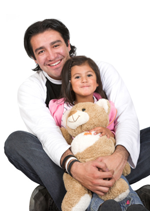 Originally posted January 26, 2012
To love God does not mean to meet His needs, but rather to delight in Him and to be captivated by His glorious power and grace, and to value Him above all other things on earth. -John Piper
After learning to love God (worship), learning to love others is the second purpose of your life. -Rick Warren
The true measure of loving God is to love him without measure. -Author Unknown
A dad walked by his young daughter's bedroom and saw her playing on the floor surrounded by her dolls and stuffed animals. Crocodile tears were streaming down her face. Gently he asked her, "What's wrong honey?" She looked up and whispered, "Dad, I love them…I love them…I love them. But they never love me back."
The bedrock of Christianity hangs on the love of God toward you and me. As children we are taught that "God is love" (1 John 4:8ESV)… and that He "so loved the world, that he gave his only begotten Son, that whosoever believeth in him should not perish, but have everlasting life." (John 3:16 KJV)
In the Psalms alone, God's "steadfast love" toward us is mentioned over 120 times. In fact, every one of the 26 verses of Psalm 136 uses the word steadfast, which in the Hebrew encompasses God's never-ending grace, favor and mercy.
What's interesting also is the emphasis the Bible puts on how we are to love God back.
In response to being asked what was the greatest commandment, Jesus himself replied, "You shall love the Lord your God with all your heart and with all your soul and with all your mind." (Matthew 22:37 ESV)
That isn't play! "All of your heart, soul and mind".
Have you ever wondered what that really looks like? Especially to God?
How do we even attempt to love God like that?
Undoubtedly, one of the greatest expressions of our love for God is in our times of praise and worship. Jesus explained to the Samaritan woman at the well that true worshippers "worship the Father in spirit and in truth…" (John 4:23 ESV) However, notice the next phrase – "the Father is seeking such people to worship (love) him." (vs. 23 ESV)
The inference of the Greek word for "seeking" is to intensely desire or crave. Our Father craves our worship…He desires time with us…He loves when we spend time in prayer with Him.
Jesus said we also show love to Him when we keep (obey) His commandments. (John 14:15)
Is it difficult to tell God, and express to Him, that we love Him? Oh yes! We often struggle because we feel distant, angry, cheated or even unworthy.
The Apostle John beautifully helps us understand "loving God" by writing, "In this is love, not that we have loved God but that He loved us and sent his Son to be the propitiation for our sins." (1John 4:10 ESV). John continues with "We love, because he (God) first loved us." (vs. 19 ESV) Loving Him starts by understanding more fully He loves us.
And each morning He pours out His love – full of grace, favor and mercy. And they fail not.
Let's go back to the little girl and her dolls – does God ever look down and whisper, "I love them… I love them… I love them… But they never love me back"?
Right now – love Him back.
It will turn your life around.
Posted on: Oct. 8, 2014, 2:42 p.m.