Emmanuel – God With Us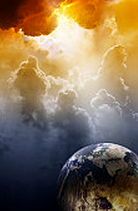 "One of two things you must do; you must either receive Him or reject Him. You receive Him here and He will receive you there; you reject Him here and He will reject you there." -D. L. Moody
Anna.
Rarely will you see her in a Christmas play. Out of the four Gospels, only Luke even mentions her story. An eighty-four year old widow. A prophetess who "never left the Temple area, worshipping night and day with her fastings and prayers." (Luke 2:37 MSG).
Recently, I was struck by the last phrase in verse 38. Anna was praising God and talking about the child to all "who were waiting expectantly for the freeing of Jerusalem." (MSG)
Anna's words resonated in the ears of every man and woman who, with a "spirit of expectation", had been waiting for the One who would "break the yoke of their burden and the staff on their shoulders, the rod of their oppressor" (Isaiah 9:4 ESV). Her rejoicing reflected the foretelling of prophets some 700 years before. The Messiah would be born of a virgin (Isaiah 7:14), in Bethlehem (Micah 5:2). The One anointed, and appointed, to preach the good news….to proclaim liberty to captives…to give sight to the blind…to lift up the down trodden (Isaiah 61:1, 2).
Anna's message was abundantly clear…He had arrived – in a manger.
He was the root of Jesse.
The Rose of Sharon.
The unspeakable mystery was now fulfilled.
The Christ child who would change everything.
Emmanuel, "God with us" – becoming flesh and dwelling among us so that we might see the glory of the Son, full of grace and truth.
When Jesus was born, the skies erupted with the Glory of the Lord. The heavens were filled with a huge angelic choir, praising God, and singing, "Glory to God in the highest, and on earth peace among those with whom He is pleased." (Luke 2:14 ESV)
Luke proclaims that;
Angels adored.
Shepherds sang.
Wise men worshipped.
Why?
Because – He…had…come!
But then, in the midst of history fulfilled, John records words that shatter God's gift of love. "He (Jesus) came to his own, and his own people did not receive him." (John 1:11 ESV)
What? How is that even possible? Seven-hundred years of expectancy fulfilled, and they reject the Promise? How do you reject the Son of God?
But they did.
There is good news however. John follows those words of deep despair with a declaration of heavenly hope. "But to all who did receive him, who believed in his name, he gave the right to become children of God…" (John 1:12 ESV)
Throughout the annals of time, every man and woman has had to make this choice. Reject…or receive. There is no middle ground. No "hope so", or "let's wait and see". A line has been drawn in the sand, and everyone must choose.
When facing his choice, the jailer in Acts 16 fell down before Paul and Silas and asked, "Sirs, what must I do to be saved?" Paul and Silas answered with amazing clarity, "Believe in the Lord Jesus Christ, and you will be saved…" (Acts 16:30-31 ESV)
Jesus was born in the shadow of the cross.
Born so that God could "reconcile us to Himself through Christ" (2Corinthians 5:18 NASB).
Born in sinless perfection so that He who "knew no sin" might become "sin on our behalf, that we might become the righteousness of God in Him." (vs. 21)
Born in the "fullness of time" to "redeem those who were under the Law, that we might receive the adoption as sons." (Galatians 4:4-5 NASB)
Born to give all mankind the opportunity to receive Him and believe on His name.
Everyone can believe. Everyone can receive.
The Hope and Peace for which the whole world "waits expectantly" has arrived.
His name is Jesus – Wonderful Counselor – Mighty God – Prince of Peace.
He is the only reason for the Christmas season.
If you never have received this Gift of Love – make today the day.
The Christ child – God's only Son – will turn your life around.
Posted on: Dec. 25, 2013, 5:50 a.m.