Hold Fast in Love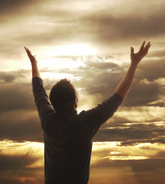 Nothing can separate you from God's love, absolutely nothing. God is enough for time, God is enough for eternity. God is enough! -Hannah Whitall Smith
In the darkest of nights cling to the assurance that God loves you, and you will experience that which you believe. -Basilea Schlink
What defines you? What one word encapsulates all of the plans you have for your life?
For some it's achievements. For others it might be possessions… prestige… power.
God has a different perspective. What matters to Him most of all is love. In fact Jesus declared "By this all people will know that you are my disciples, if you have love for one another." (John 13:35 ESV)
The word "love" is used in the English Standard Version of the Bible over 500 times. One of my favorites is found in Psalm 91, which is often referred to as the "Psalm of Protection". In this Psalm, beautiful metaphors – shelter… shadow… fortress… refuge… shield…buckler… habitation… dwelling – are used to describe God's awesome power and protection.
In verse 14 God tells us what's behind His preservation and deliverance;
Because he holds fast to me in love, I will deliver him…" (Psalm 91:14 ESV)
In the original Hebrew, the term "holds fast" implies binding or adhering or clinging. When trouble, trials and temptations rise up to meet us, the core of what God declares as necessary for us to experience His safeguard and protection is to cling to Him in love.
This image is echoed by Jesus when answering the question of "What is the greatest commandment?" "He (Jesus) said to him, 'You shall love the Lord your God with all your heart and with all your soul and with all your mind.'" (Matthew 22:37 ESV)
We have the capacity to love Him with our entire being for only one reason – because He first loved us. "In this is love, not that we have loved God, but that He loved us…" (1 John 4:10 ESV)
When life's not the way it's supposed to be – when the wheels are coming off the bus — when nothing makes sense – cling to the Lord and rest assured of His "steadfast love" for you.
I also love the precept found in Romans 8 when the Apostle Paul asks this critical question; "Who shall separate us from the love of Christ? Shall tribulation, or distress, or persecution, or famine, or nakedness, or danger, or sword?" (Romans 8:35 ESV) Paul answers his own question in two parts:
He first declares that we are more than conquerors through Him who loved us." (Romans 8:37 ESV) The very things that would seem to overwhelm us – trials… stress… money… danger… are actually opportunities for us to become conquerors – warriors full of His power and strength.
The waves that distress an ordinary swimmer produce great joy to a surfer trained to ride and conquer them.
Paul then declares that neither death nor life, nor angels nor rulers, nor things present nor things to come, nor powers, nor height nor depth, nor anything else in all creation, will be able to separate us from the love of God in Christ Jesus our Lord." (Romans 8:38-39 ESV)
The remarkable truth is that nothing can wedge itself between the undeserved, fathomless love of God and those who call Him Father. Nothing.
Hold fast to Him with all of your love.
It will turn your life around.
Posted on: Oct. 3, 2013, 10:04 a.m.