Celebrate Freedom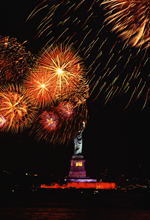 "Let us remember, as people of faith, that our primary mission is not to have a political ideology; it's to change the world so that every man, woman, boy, and girl can experience true freedom." Mike Huckabee
"God's purpose in redeeming men from sin is not to give them freedom to do as they please but freedom to do as He pleases, which is to live righteously." John MacArthur
"Where the Spirit of the Lord is, there is liberty." 2 Corinthians 3:17 KJV
On July 4th, 1776 the Continental Congress voted to accept the Declaration of Independence. On August 2nd, 56 men signed it. A new nation was born.
Of those gallant 56 men, most were well educated and wealthy. They had prospered under British rule — but they were not free. And they paid a precious price in declaring their freedom, and the freedom of the new nation.
In all, 5 of the 56 were captured and tortured by the British. 29 had their homes, businesses and property destroyed and eventually went bankrupt. Several lived off charity and died penniless. 9 were killed in the Revolution. 2 lost sons.
But not one betrayed their pledge and commitment to the nation they had birthed.
The 4th of July is a celebration of the results of what they accomplished. Families gather to fellowship and picnic. All across the nation, from back yards to huge stadiums, magnificent firework extravaganzas are displayed — to celebrate. These celebrations are a symbol of our country's independence and commitment to a bill of rights which formed the foundation for America.
As Christians, we too often fail to celebrate our spiritual liberty. It starts by understanding and remembering what Christ suffered and accomplished on the cross. He paid "in full" our sin debt and offers new life and spiritual freedom to all who choose to believe.
Celebrate these verses:
"…and you will know the truth (Jesus), and the truth will set you free." John 8:32 ESV
"So if the Son sets you free, you will be free indeed." John 8:36 ESV
"For the law of the Spirit of life has set you free in Jesus Christ from the law of sin and death." Romans 8:2 ESV
"For freedom Christ has set us free…" Galatians 5:1 ESV
The Apostle Paul reminds us that we have been "bought with a price". He then adds, "So glorify God in your body." (1 Corinthians 6:20 ESV) Interestingly, Strong's Concordance lists "celebrate" as one of the meanings of glorify. Christ not only purchased our salvation, He purchased our freedom. Jesus came to give us life — abundant life (John 10:10 ESV).
Celebrate that freedom.
Celebrate His life in you.
It will turn your life around.
Posted on: July 4, 2013, 3:17 a.m.